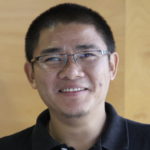 Tashi Phuntsho - Senior Network Analyst / Training Delivery Manager
Senior Network Analyst
Tashi joined APNIC in 2017, bringing with him extensive and diverse experience in network operations, having worked in different roles since 2003, from transmission networks in the early days to being the network lead for an incumbent Telco ISP.
With his understanding of how not to do things, he has been involved in capacity development in the APNIC community by providing technical assistance, outreach and training in a number of technical areas.
Tashi completed his undergraduate studies in electrical engineering in India, complemented by research studies in Japan and postgraduate studies in Network Systems in Australia.
Areas of Interest:
IPv6 deployment, Network Security, Securing Internet Routing (RPKI), SDN framework, Network Softwarisation, Network Automation, Transmission Networks, Internet eXchanges.